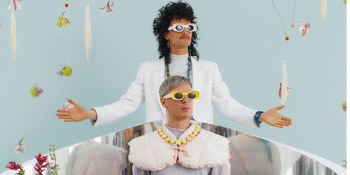 Great Southern Nights, Destination NSW, Select Music, UNIFIED Music Group present
Client Liaison
with Molly Millington
Drifters Wharf (Gosford, NSW)
Saturday, 19 March 2022 8:30 pm
"Welcome to the cult of Client Liaison. A world unto itself, inviting you inwards to question yourself and think twice. Where business is the new religion and absurdity the new norm. Where fashion is your liberator and music is the door to your salvation. No matter your frustrations, no matter your emotional state, come with us and witness this transcendental search. We are your spiritual guides to a more positive and enlightened life. Working off your collective energy, positivity, and pure expression. Quenching your insatiable desire for excess and leading you to a new way of living."

Disco cult leaders Client Liaison have blessed us with the release of their highly anticipated new album 'Divine Intervention'.

Harvey Miller and Monte Morgan have delivered an album destined to take listeners on a musical journey that touches on themes of love, connection, pleasure and fantasy by way of fun and dancefloor-ready exploration of the divine and higher powers.

The album features 14 tracks including the previously released "The Real Thing", "The Beat Supreme", "Champagne Affection" "Intervention" "House Of Holy" and most recently "Elevator Up" (which received the remix treatment from both Motez and Benson) as well as a special feature from Australian pop trio Glades on "Cold To Touch".

The album release also comes alongside another spectacular Client Liaison video for live fan favourite single "Strictly Business". Directed by Peter Hume and produced by Hutch Collective.

Now with over 80 million global streams and multiple ARIA nominations to their name, Client Liaison have cemented themselves as one of Australia's most celebrated pop acts. Over the last few years, Harvey and Monte have brought their iconic live show to some of the largest stages both at home and abroad; selling out shows on their 2019 'The Real Thing National Tour' and continuing to cement themselves as festival favorites having played Splendour in the Grass, Groovin The Moo, Falls Festival, Field Day, Primavera (Spain) and Firefly Music Festival (US).