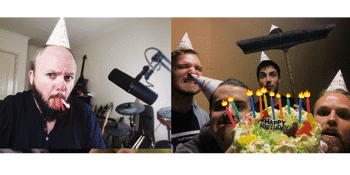 Bird's Robe Records
Toehider & Troldhaugen - Joint 10th Anniversary Tour
The Basement - Canberra (Belconnen, ACT)
Saturday, 21 July 2018 8:00 PM
TOEHIDER & TROLDHAUGEN ANNOUNCE JOINT 10TH ANNIVERSARY TOUR
If you never got invited to the cool kids' 10th birthday parties, now's your chance, because the coolest kids in school are inviting you.
Two of Australia's – nay, the world's – most impressive and zaniest acts have announced a co-headlining 10th anniversary tour of Australia this July.
Both formed in 2008, the Melbourne's TOEHIDER and Wollongong-based troupe TROLDHAUGEN have built a fast friendship over the years (including a co-headlining tour back in 2014) and are heading out on the road together to for one heck of a birthday party.
For anyone who knows these acts, this is going to be one huge, unmissable night of awesomeness. Expect plenty of big riffs, big vocals, prog quirkiness and loads of unpredictability.
This lineup really, really…takes the cake.
TOEHIDER SAYS:
"I'm absolutely thrilled to be getting out and doing some shows to celebrate this momentous occasion! I still remember recording the first album on a Pentium 4 PC that would always crash…I'd send Salty a small portion of a song, and he'd respond by drawing all this wild and crazy stuff. Who knew we'd still be doing it 10 years later?
I'm doubly stoked to be sharing the stage with my favourite band TROLDHAUGEN. Nobody puts on a show like these guys in the whole world."
TROLDHAUGEN SAY:
"Hi we ar troldhaugen an we ar turneng 10 year old! yoo ar invyted too our partee! Ples com. It wil be relly fun an our frens toehider wil be ther too. I asked my mum an she sed I can hav as menny peepol as i want at my partee so if yoo ask yor mum too then it wil all be ok. see yoo ther."
LISTEN – TOEHIDER (for fans of Queen, Ayreon, Devin Townsend)
'The Most Popular Girl in School'
https://toehider.bandcamp.com/track/the-most-popular-girl-in-school
'This Conversation Is Over'
https://toehider.bandcamp.com/track/this-conversation-is-over
LISTEN – TROLDHAUGEN (for fans of Mr. Bungle, Finntroll, Alestorm)
'Via Loa Vegas'
https://troldhaugen.bandcamp.com/track/viva-loa-vegas
'It's Morphine Time'