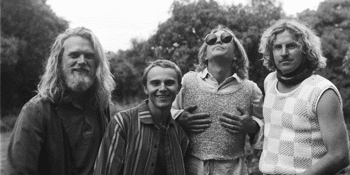 triple j & Select Music Present..
Babe Rainbow
Narrabeen RSL (North Narrabeen, NSW)
Friday, 8 April 2022 7:00 pm
Shit a brick! Babe Rainbow SMASH THE MACHINE.

Rockit clock says summers coming on, Babes got the songs and shows ready to soundtrack. First off is new single "Smash the Machine", an air adventure out of your head and into the screen. A contradictory joyous choir of harmony to juxtapose its biting commentary on technology and consumerism.
Listen: https://s.disco.ac/yebtfhujsxuz

We bookend a year that started with Babe Rainbow alongside Jaden Smith pushing imaginations on what the intersection of rainbow psyche music and hip hop sounds like. It was lifted from the bands fourth album that UK Clash Magazine reviewer called "Psych-pop constructed with a painterly touch, Babe Rainbow seem to thrive on feeling, unhooking themselves from logical realms and embarking on lengthy journeys across turbulent inner oceans."
--
VENUE ENTRY AND VACCINATION REQUIREMENTS
All persons attending Narrabeen RSL will be required to provide a legal form of photo identification, QR code sign in, sign in to the club as a temporary member and provide proof of vaccination and/or medical exemption.
Narrabeen RSL Board of Directors has unanimously voted to remain closed to unvaccinated people 18 years of age and over, unless they have medical documentation preventing them from being vaccinated. This will extend the 'vaccinated only' restrictions at the club until 31st January, 2022.
Regrettably, the venue understands that some members of our community will be disappointed by this decision, but believe it to be the correct option mindful of all the available information at hand.