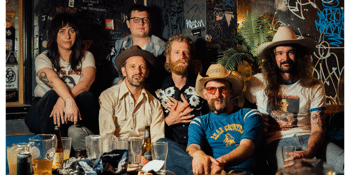 Great Southern Nights & Collective Artists
Andy Golledge
Narrabeen RSL (North Narrabeen, NSW)
Sunday, 22 November 2020 6:00 pm
"I just want to make songs that will remain when all is said and done."
Andy Golledge is a livewire and a gentle soul, trapped in a 70s tuna fisherman's body. He looks like your old man back in the day, sounds like Neil Young, with the energy of Springsteen, and a vulnerability
all his own.
Anyone who says Sydney's wild live music pub scene is dead has never been swept up in the joyful mania of an Andy Golledge show. Most of the city's gig goers have either seen Andy strip to his undies at a show, gotten topless at one themselves, shed a tear in the crowd, or, most likely – all three. The Tamworth native's tracks span from foot stompin' party starters to the heartachingly fragile. Cause that's life, isn't it? They're painfully honest, instantly relatable, and catchy as all hell.
Think Dad Rock meets alt-country – with a massive injection of heart.
Hailing from the country and coming of age in the city has clearly made its mark, with debut EP Namoi exploring modern love, nature, vices,
getting older and getting by.
The first two singles off Namoi are the perfect introduction to Andy's self-reflective candour; leaving you with a dawning impression that he could easily be one of the most honest songwriters in Australia today.
The deeply personal 'Run To The River',
written for Andy's twin brother, is a rousing anthem for anyone struggling with mental health to reach out to a friend, family, anybody. In its wake, 'When Your Mind's Away' is a delicate undressing of the internal dilemma in being unable to connect with someone emotionally because you're at odds with yourself.
Safe to say, Andy
wears his heart on both sleeves.
And while Namoi tackles some classic themes, to channel the great Darryl Kerrigan, it's what he's done with it that really packs the sting.
His is a finely-honed knack of putting words to some of the rawest and most vulnerable of our emotions. 'Every Time I See Your Picture On My Telephone'
is a painfully relatable tale of obsession and lust, mistaken for love. As we all know, it's hard to let the perfect person go, even harder to accept that there's no such thing. And it's exactly these sentiments that will make Namoi resonate so hard with so many.
Growing up fishing, skating and playing guitar in Tamworth, Andy's early musical influences, like most of ours, reflected his parent's record collection. Absorbing the art of storytelling from James Taylor, he was "singing sad songs before I was even sad". It's a notion he explores in 'Blue',
a self-aware sad song that questions whether its purpose is to help its creator work through issues or to simply enable his wallowing.
Despite hailing from Australia's country music capital, it wasn't until Andy left, drifted awhile, and landed in Sydney that his love of the genre emerged. "It's very nostalgic for me, I have a strong pull to the past. We have a strange tendency to idealise the past when the present isn't easy", thoughts which echo throughout tracks '1170' and 'Dreamin' Of America'.
You'd be forgiven for thinking country music mostly offers ruminations on swamps and sadness, but Namoi dives plenty deeper than that. It's cleverly crafted but never over-polished, raw and ready, and original to the extent that Andy barely put pen to paper.
Recorded live with his full band, looking fresh off the set of a 70s Decoré commercial, Namoi manages to capture all the energy Andy's renowned for without losing an ounce of spirit. Which is no mean feat, and a credit to dream production team

John Vella and Ryan Miller (Angus & Julia Stone, The Delta Riggs, The Jezabels), with mastering by Mike Tucci (DMA's, Jack River, Moses Sumney).
For fans that have been riding with Andy for years already, Namoi is an excruciatingly long-anticipated release. For everyone that's new, welcome. Saddle up, give it a spin, soak it in, and definitely don't miss the chance to catch this one live.
"Releasing Namoi is literally a release for me too. These songs are very personal and carrying the weight of that alone is taxing. Now it's lifted, they can go and live their lives and I can get on with mine."
NOTE: Narrabeen RSL has a set socially distanced seating plan in place. Wherever possible we aim to accomodate your requirements. However in some circumstance small bookings may be joined in groups no larger than 8. If you would like to sit with your friends or family at an events please aim to purchase all tickets in single transaction where possible.