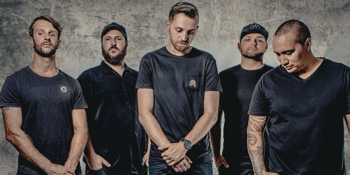 Take My Soul
Lycanthrope + Cold Era
The Small Ballroom (Islington, NSW)
Friday, 21 September 2018 7:00 PM
Take My Soul are 5 humans making music in Newcastle, Australia. The band started from a recording session at Studio 1618 where the resident studio Wizard liked the music and added some vocals as an exercise and the results were something that seemed to need to be explored further. Take My Soul is the end-product of that first exercise. The resulting chemistry spawned a collection of songs mixing brutal heaviness infused with melody and groove. All members have played in bands of diverse types over the years and had some success but have bonded over similar work ethics and love of playing and sharing music.
Take My Soul was conceived in June 2017 and after a gestation period of 9 months came forth into the light and played their first show in March 2018 supporting Lycanthrope. Shortly after this the band managed to pick up support slots with international touring acts Secrets (U.S.) and Alien Weaponry (N.Z.).
The band have released their debut film clip 'The Fall' which was produced locally by Holliday Music and has currently had over 2000 views on Youtube. 'The Fall' also has been played on Triple J's Short.Fast.Loud. A second film clip release for the track 'Paralyse' saw the clip gain 25,000 views on Facebook within a week. Coming up in 2018 Take My Soul will be releasing their debut e.p. which has been recorded in Newcastle between Sawtooth Studio and Studio 1618.
Take My Soul have many diverse musical and artistic influences but are mostly inspired by passionate Australian bands such as Northlane, Polaris, Karnivool, In Hearts Wake and Parkway Drive.